About
THE CRADLE OF HOPE is a Non Profit Oganisation focusing on assisting and uplifting woman and children who find themselves in desperate need. We offer HELP and HOPE regardless of race or religion, offering a Hand Up and not a Hand Out, because we care!
OUR HOUSE OF RESTORATION is a safe haven and a place of empowerment for vulnerable, destitute and abused woman and their children, as well as young teenage girls. Many of them are victims of domestic violence, trauma, and human trafficking. With no way out of difficult circumstances, many turn to addiction and prostitution . They all desire to Let Go of their past and build a better future for themselves and their children. At the HOUSE OF RESTORATION, the ladies grow and learn life skills whilst keeping their children with them.
ONE DAY EMERGENCY SHELTER - is an emergency shelter for women and children in need of temporary emergency intervention and accommodation. Many of the woman that come to our shelter desperate for help are brought to us by the Police, Social workers or they have managed to escape and run away from abusive partners.
CRADLE - TJOKKERTJIES FOR JESUS - is our Community Pre-Primary School with approximately 80 children from 3 months to Grade R. Breakfast, Lunch and snacks are provided. Very few of the parents of these children can afford to contribute to their school fees, and we receive NO-FUNDING from the Government. We are always in need of sponsorships to ensure that these children receive a good education, so that the cycle of poverty in their lives can be broken.
The CRADLE - COMMUNITY FEEDING SCHEME - every lunch time between 12:00 & 13:00 daily, we hand out soup and bread and fresh peanut butter and jam sandwiches to between 200 and 300 HUNGRY adults and children. For many of them, this is their ONLY MEAL for the day. We use between 200-300 loaves of bread PER DAY.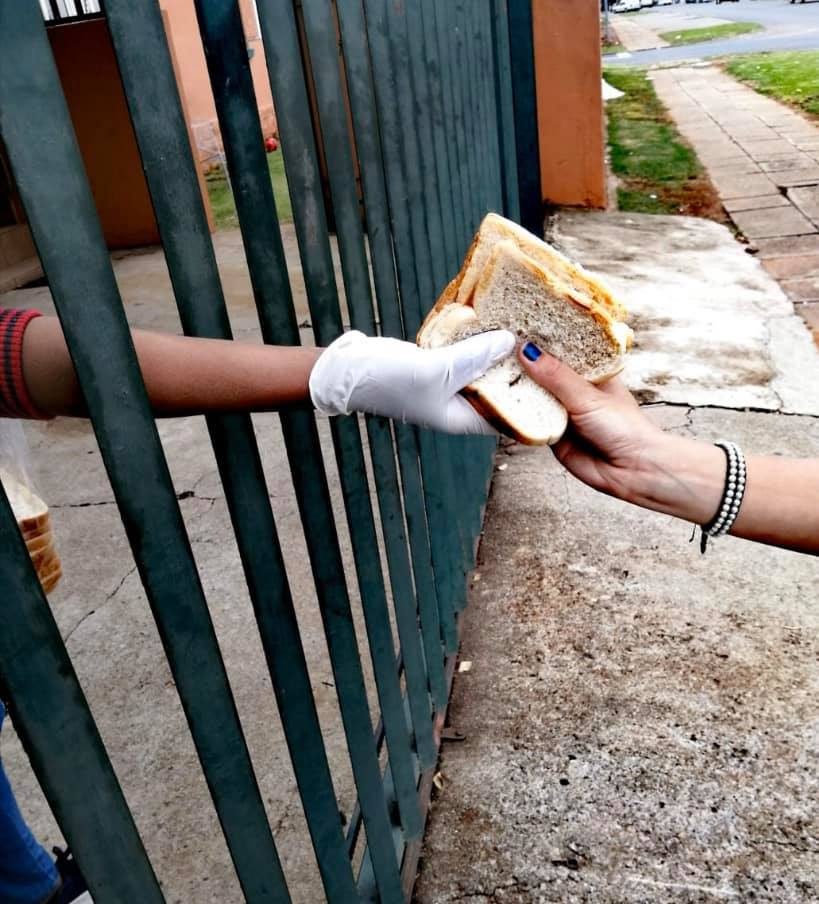 The CRADLE OF HOPE - FIND A NEED AND FILL IT OUTREACH PROJECT
During the initial weeks and months of the COVID-19 PANDEMIC, THE CRADLE OF HOPE moved rapidly to provide unprecedented levels of Emergency Support to HUNDREDS of families. Jobs and income losses have been particularly severe for many women and single mothers. Through this outreach project, THE CRADLE OF HOPE is able to bridge the gap between dire hunger and hopelessness. THE CRADLE OF HOPE provides around 3000 food parcels every month, to families in desperate need. We also assist these families with baby formula, nappies, clothing, matrasses, basic furniture, school clothing and stationery and other needs that we may come across.
THE CRADLE ARK - In 2007, THE CRADLE OF HOPE purchased a piece of land in Tarlton. Currently 200 adults and children live at THE CRADLE ARK. There is no running water - no electricity - The families are living in the structures on the plot. The smaller children attend the nearby creche, which we support with educational needs and food and groceries for the children, on a weekly basis.
THE CRADLE OF HOPE runs 16 active projects, directly impacting the lives of more than 1 200 less-fortunate, destitute and abused adults & children, every single day.
Our total monthly operating costs across these projects totals R480 000.00.
We can issue Article 18a SARS Tax Certificates for all donations received, on request.
We are a Level BBBEE organisation.
We are deeply grateful to be involved at grass-root levels with so many lives daily!
THE CRADLE OF HOPE receives Zero Government Funding and we rely solely on donations and sponsorships from individuals, corporate companies as well as our own fundraising initiatives.
At present we are in desperate need of the following:
Blankets
Men and ladies clothing
Clothing for babies and toddlers and children
Any canned foods
Any spreads for bread
Bread
Rice
Maize Meal
Coffee
Tea
Sugar
Fresh Fruit
Instant Porridge
Long Life Milk
Cereals
Eggs
Any Fresh Vegetables
Meat - chicken, beef stew, beef mince, game meat etc
Cold meats, polony, viennas
Baby Formula
Nappies in the sizes 1, 2, 3 and especially 4, 5 & 6
Wet wipes
Toiletries for babies, men and women
Please Help Us If You Can!
For more information please visit our Website or Facebook page
www.thecradleofhope.org
https://www.facebook.com/TheCradleofHope/
OR contact our PR & MARKETING office:
Ms. Dima Tomotomo