Playtopia MGA 2019
Thu Dec 5, 10:00 - Sun Dec 8, 00:00
PLAYTOPIA and MAKE GAMES AFRICA (MGA) have joined forces to make one ecstatic 3-day event where attendees can enjoy local and international indie games, eye melting interactive and digital art and a killer music line up! There will be two conferencing streams available to delegates this year, the MGA Business to Business conference and the Playtopia Talks aimed at delegates interested in the creative side of game development. Playtopia delegates are invited to attend talks, panels and workshops hosted by both international and local industry experts in the field of Indie Game development and the MGA talks are aimed at business development of gaming within the African context, tickets are very limited and booking is essential!
Taking cues from international alternative games festivals, Playtopia MGA marks South Africa's debut homegrown celebration of games and interactive art. Producing a series of surprise global hits, South Africa's game makers (and their unique creations) have landed up on the international map, and Playtopia MGA stands to celebrate the country's diverse game development community, and inspire the next generation of creators, gamers and enthusiasts. Collecting the best of local art and games alongside international contemporaries, Playtopia MGA promises to be one of a kind African gaming celebration.

Gamers, developers and event goers will have a plethora of games, music, food and experiential art to enjoy. Exhibitions by some of South Africa's top interactive artists, 30+ alternative, art and party games, a Super Friendship Arcade room with games played on custom controllers, VR rooms and music entertainment.
WHAT TO EXPECT!
35+ Indie Game exhibition
VR exhibition
Super Friendship Arcade hardware games exhibition
Immersive arts exhibition
Playtopia Talks with international and African speakers (Playtopia and MGA delegate ticket holders only)
MGA B2B Talks with international and African speakers (MGA delegate ticket holders only)
awesome music line up!
beer garden
food trucks
hours and hours of playful fun!
Fun Fact!
Playtopia falls under the newly created Africa Games Week initiative. Together with Make Games Africa we aim to create a lasting presence on the festival calendar as one annual games and playful media event.
NB! Please take note, MGA tickets and Playtopia Talks tickets will be priced differently, and whilst an MGA ticket gives you complete all access, a Playtopia Talks ticket will not give you access to the MGA talks.
This event is a strictly 18+, the reason being that some of the games are not suitable for children.
Contact: [email protected]
MUSIC LINE UP!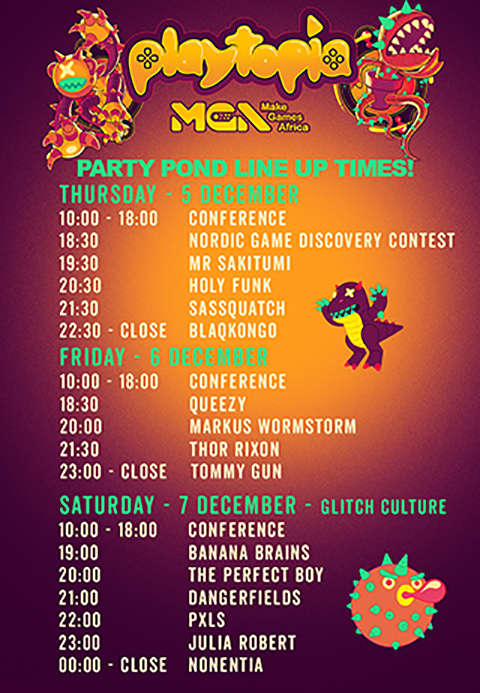 PARKING MAP: WE STRONGLY ENCOURAGE YOU TO UBER AS PARKING IS EXTREMELY LIMITED
VENUE MAP
Mitu Khandaker (NYU)
Dr Mitu Khandaker holds a PhD on the aesthetics of interactivity in video-games. She is an Assistant Arts Professor at NYU Game Center and CEO and co-founder at Glow Up Games.
Ree Treweek
As a co-founder of The Blackheart Gang, Shy the Sun and Tulips & Chimneys, Ree has become Africa's most awarded animation director, having her work with the likes of Electronic Arts, Hendrick's Gin, Riot Games, and United Airlines awarded at the Clios, Communications Arts Awards, D&AD, The Loeries, The London International Awards, Mobius Awards, New York Festivals and The South African Film and Television Awards, among others.
Nicole He (USA)
Nicole He is a programmer, artist, and game developer based in Brooklyn, New York. Her recent work is focused on unusual uses of voice technology. She has worked as a creative technologist at Google Creative Lab, an outreach lead at Kickstarter, and an adjunct faculty member at ITP at NYU, where she received her Master's degree. She's working on an upcoming sci-fi, narrative voice-controlled game produced by the National Film Board of Canada.
Andrew Parsons (UK)
Andrew Parsons is the head of production at Indie publishing label Devolver Digital. Since his introduction to the industry in 2005, he has worked in multiple disciplines in both publishing and development that run the gamut from brand management to level design. His continuing mission is to support the talented devs of the Devolver family and to help bring Indie greatness to the unwashed masses. He thinks most games are too difficult.


Johan Gjestland (NOR)
Johan Gjestland is an artist/programmer known for his work on "Fugl",a bird flying simulator.
Kamina Vincent (Aust)
Kamina is the Producer at Mountains, a craft games company based in Melbourne, Australia. Mountains first title, Florence, an interactive story on love and life, was released early 2018. Florence was received with critical acclaim, picking up several awards, including an Apple Design Award and BAFTA for best mobile game, and has been included in museum exhibitions such as ACMI in Melbourne and MAAS in Sydney.
Evan Greenwood (FREE LIVES)
Evan Greenwood is the founder of the South African game studio Free Lives. Evan is best known for Broforce (an explosive satire of Hollywood hyper-violence and American foreign policy) and Genital Jousting (a flaccid assault on toxic masculinity) Free Lives produce a steady stream of games, bursting with irreverent humor and over-the-top gameplay.
Robin Baumgarten (GER)
Robin Baumgarten is a German Indie based in London, UK. After researching Artificial Intelligence in Games and working on mobile titles, he is now fully focused on creating playable interactive installations that straddle the divide of games and art, such as Line Wobbler and Wobble Garden.
Bahiyya Khan
Bahiyya is a multi-award winning game designer and, uh, "writer" who lives in Johannesburg, South Africa. She is currently doing her Masters in Experimental Storytelling. Right now, she is finishing up work on her latest game,
after HOURS,
which tells the story of a young woman that was molested as a child and has Borderline Personality Disorder as a result. In her free time (sounds fake), she likes to sit on the hill and sing along to all the punk songs. She also loves poems and people with a backbone.
Wilhelm Nyland (SWE)
Game designer and CEO at Landfall. I started making games in high school four years ago. For the last two years, I've been exploring physics-driven game design.
Limpho Moeti
Limpho Moeti is the Deputy Festival Director for Playtopia and previously worked for Free Lives (BROFORCE, GORN, GENITAL JOUSTING) and she has spoken at festivals such A MAZE./ Berlin, Nordic Gam Jam and the Game Developers of Color. In her spare time she thinks of ways to smash the patriarchy, topple capitalism and who was the best Batman. She is also one half of the podcast Bad Form. She is definitely not a robot sent from the future to destroy humanity and is uncertain as to why this rumor won't die.
Maize Wallin (AUS)
Maize Wallin is a Melbourne based composer, sound designer, and audio programmer. Their focus is in 3D spatialised audio, and dynamic music, using cutting edge techniques. Maize consults in Australia and around the world on these topics, and is heavily engaged in the game development community, and in activism and representation within it.
Maize's solo project focus is currently on
Noise Drawers
, a VR musical instrument they have been performing and touring with!
Delphine Fourneau (FRA)
Delphine Fourneau (aka Dziff) is an independent art director & illustrator who's been working in video games for about 9 years. She's part of the Klondike Collective, and casually work on soothing & personal game experiences.
Lars Espeter (Design Academy)
Lars Espeter developed and published his first game, Skullitaire, in 1993 as a Shareware title.In the past 26 years he has been developing and working on games developed by his own team as well as for advertising agencies, manufacturers, education developers, architects, game development teams and more, for the likes of Volkswagen, Skoda, BBDO and Total SA.
Sithe Ncube (ZAM)
Sithe is a community organizer, developer and loves getting her hands into the game dev scene in Africa. She is currently the Sub-Saharan Africa Regional Organiser for the Global Game Jam and is working on getting more African locations to be a part of the worlds largest game development event. She currently runs Ubongo Game Lab through which she hosts her favorite event, an annual all girls game development bootcamp called Games Plus Girls
Armel Gibson (FRA)
Armel Gibson is a game designer and developer from France. He co-founded the game/art collective Klondike a few years ago and now run Skeleton Business, with which he released Vignettes, his first commercial game. He usually finds great pleasure in working with movement and bright color palettes.
Adone Kitching (Free Lives)
Adoné Kitching is a producer at independent game studio, Free Lives. She works on Cricket Through the Ages, Second Earth, GORN and Broforce, as well as a bunch of miscellaneous things that may or may not be part of her job description. With an MA in Social Anthropology, Adoné is interested in identifying and making sense of patterns in human behaviour. She has worked in the non-profit sector as a researcher and project manager, with a particular focus on urban development and serious games. She also designs, writes and makes art for small, soft, tongue-in-cheek, narrative-driven games.
Ben Rausch (SFA)
Ben Rausch is an "artstronaut", exploring the unknown, through new combinations of creativity and technology.

For the past 5 years, Ben's primary creative focus has orbited around games, how they can disrupt status quos, bring people together, positively rewire players, and The World around them. He is one third of the punk game band Team Lazerbeam, an organizer of the alternative games party Super Freindship Arcade, and programme director of Playtopia.

Outside of games, Ben has spent the past 15 years animating (with his studio Cool Your Jets)
, shooting light out of a keytar (with bands like Johnny Foreigner and kidofdoom), DJing (as Sassquatch), throwing parties, drawing comics, releasing records and petting cats.
Hanna Fogelberg (SWE)
Hanna Fogelberg is the community manager/peasant handler at Landfall Games. Landfall is an indie studio based in Stockholm and the makers of Totally Accurate Battle Simulator, Clustertruck and Stick Fight. She also runs communication for Wings Interactive - an unconventional publisher focusing on funding diverse teams.
Ingrid Kopp (Electric South)
Ingrid Kopp is a co-founder of Electric South, a non-profit initiative to develop virtual reality and interactive storytelling projects across Africa. She also curates the Tribeca Storyscapes programme for interactive and immersive work at the Tribeca Film Festival. Along with MIT's Open DocLab and Dot Connector Studio, she produces Immerse, a publication for Medium on emerging storytelling. Ingrid started her career in the Documentaries department at Channel 4 Television in London before moving to NYC in 2004 and has been based in Cape Town since 2015. Until the end of 2017, Ingrid was a Senior Consultant in the Interactive Department at the Tribeca Film Institute. She was director of the department from 2011 to 2015, creating and running programmes like the TFI New Media Fund, Tribeca Hacks and TFI Interactive.
Mike Scott (Animation)
Mike started his animation career at Red Pepper in Joburg, animating episodes of 'Jozi Zoo' and some stuff for 'Cool Catz' on eTV. Then, he moved to Plettenberg Bay and did some music videos for Goldfish, then worked on his show 'Moosebox' for Nickelodeon. He's worked with David O'Reilly for [adult swim], Cartuna, College Humor, Vice, Anamanaguchi, Free Lives, Disney, The Kiffness, Triggerfish and some others. Mike loves videogames about the same or more than animation, and thinks about them all the time.
Phumlani Pikoli (Artist/Author)
PHUMLANI PIKOLI is a multidisciplinary artist who describes his writing as 'a generational ode'. He is currently working on a multi-sensory exhibition with the British Council in South Africa, based on his acclaimed debut collection of short stories, The Fatuous State of Severity.
Peter Cardwell Gardner
Peter works in the Mental Health industry, developing VR apps in London. By night he's also an indie developer and co-founder of Cape Town's Super Friendship Arcade
Rick Treweek (Eden Labs)
Rick Treweek, owner of Eden Labs, speaks regularly on emerging technologies at conferences around the world, including VR Days in Amsterdam and Nvidia's GPU Technology Conference in Munich.
He co-founded mobile innovation company Breakdesign in South Africa in 2004, creating mobile games, like World of Rabbit, that had over 16m downloads - before the birth of in-app purchasing or advertising.Rick had moved with Breakdesign to Singapore, where he was soon swept up in 3D printing and the maker movement. This led first to Trobok Toys, which focused on distributing 3D printer designs for his toys rather than the toys themselves, and then African Robot, which focused on bringing disruptive technologies like 3D printing to Africa.
Tim Flusk (WITS)
Using games as tools for change, Tim Flusk sets the status quo ablaze and levels the playing field for all marginalised groups. Formerly a software developer at 24 Bit Games he is currently a Game Design lecturer at Wits University. Some of his best work can be seen in the IGF award-winning game:
AfterHours.
He currently spends most of his time badgering his students to make more games. His main research into games has focused on interrogating the purpose of privileged mechanics within game design discourse and has recently begun interrogating bias in technology.
Inka Kendzia
Inka is a live visual artist primarily working with projections and light. She mixes visuals live for musicians and also creates immersive projection art, blending the organic and digital worlds. She is intrigued by and challenges the notion of self. Inka wishes to inspire viewers to connect with nature and see themselves as an interconnected part of the whole.
The Lost Botanist
Tulips & Chimneys together with Eden Labs will be exhibiting their 2019 Annecy Official VR Selection and award nominated experience; The Lost Botanist. Merging virtual and the real worlds, the experience will be exhibited as a sculptural installation depicting the realm of the Undergarden.