UNITY - 20 Year Celebration
Sat May 4, 18:00 - Sun May 5, 02:00
About
20 YEARS OF UNITY *** STAR WARS *** Theme Party ***
CLUB UNITY turns 20 years of age this year and has been at the forefront of Clubbing and Event Production for over two decades. We have hosted the world most famous DJ's and Producers on the UNITY dance floors with a high-end production, music and entertainment from the original founders and our guests we have hosted. <3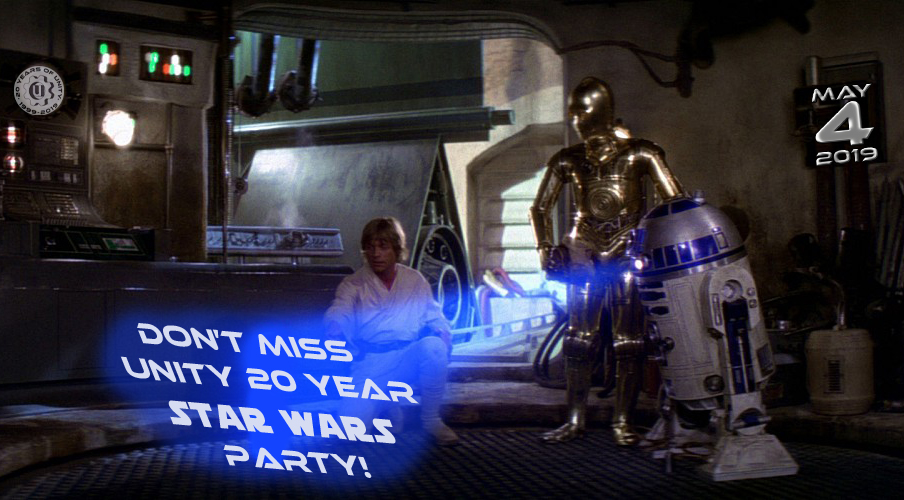 UNITY - 20 Year Celebration
This year we have chosen a very special date that falls in line with our 20th year celebration which is the 4th of May, international ***STAR WARS DAY*** "May the 4th be with you" ;D
Over the years we have had all kinds of crazy theme parties, but this one is defiantly for the books! This event will be starting slightly earlier than usual during the day as we want this to be a real celebration of our two decades together as one Unity Family. We have had a fantastic time over these 20 years all of us watching each other grow up through the dance music scene since the first opening party at CLUB UNITY in 1999, and have partied like that ever since... because that is how we do it!
This year we can't find any better excuse than to make this an epic Star Wars theme party as we have all grown up through these epic movies and they have been a part of our lives as UNITY has by bringing us all together <3
We have an amazing venue arranged for you and we want you to dress up in your favorite Star Wars character costume. To make your life easier we have been in touch with the top fancy dress costume shops across Cape Town and if you do want to go all out and dress up, we have arranged a Club Unity discount at these shops that will be sent out shortly :)
UNITY - 20 Year Celebration (((> DJ LINE_UP <)))
* DJ BASIL
* CHRIS KLASS & GARY SK
* DJ SHYLO
* NICK E LOUDER
* ERIC M
*** UNITY V.I.P. ~ SKYY VODKA Space Bar ***
To make your VIP experience amazing Skyy Vodka will be bringing you the SPACE BAR on the upper deck.
UNITY ~ VIP Access
Access to the upper deck into the luxury SKYY Vodka Space Bar
Welcome Drinks
CD - 20 YEARS OF UNITY - VIP Classic Anthems Mix
Big Screen Star Wars Movies & Live DJ feed
Watch our social media and the Club Unity page on Mutha FM for announcements!
https://www.muthafm.com/club-unity/
May the 4th be with you! ;D
WATCH THE FULL LINE-UP VIDEO FLYER:
WATCH THE VIDEO FLYER: