HOLISTICA - Festival of Experiences GATES OPEN 9.40 to start at 10am
Sun Dec 3, 10:00 - Sun Dec 3, 18:00
ABOUT
THE HOLISTICA FESTIVAL OF EXPERIENCES
Come to the breathtaking Valley Shala, 79 Valley Road in Hout Bay, Cape Town for a beautiful gathering at the Holistica Festival of Experiences.
FREE movement classes all day - Ashtanga Yoga, Biodanza, Tai Chi, Orisha dancing and Yin Yoga.
FREE talks all day - learn about psychedelics, psilocybin, dry fasting, darkness retreats, therapeutic MDMA, sacred economy, and more…
Delicious cacao, and conscious breathwork journey.
CONSCIOUS SHOPPING – Browse the market filled with mindful gifts from meditation cushions to mala beads, natural perfume & body products, candles, teas, yoga clothing, cacao and more.
Delicious food available with vegan and plant-based options. Picnic on the grass or connect at the food area.
FREE GIFT BAG for every ticket holder with a Holistica magazine, Rawbiotics gut repair, Reishi honey from the Mushroom Guru and more.
Watch the sunset, share breathtaking views from Valley Shala and end the day with DJ maestro Sadhu Sensi.
LIMITED TICKETS – make sure you get yours early.
TALK PROGRAMME:
10am
INTUITIVE EATING
Join Nicola Bentley a certified nutritional therapist from Soaring Free Superfoods for an informative and uplifting talk as she delves into intuitive nutrition, with insights on adding medicinal mushrooms and adaptogens into a daily routine. Championing intuitive eating and abundance over deprivation Nicola tells us how.
11am
MEDICINAL MUSHROOMS, PSILOCYBIN, MICRO- DOSING & MORE
Craig Fourie from Mushroom Guru speaks about the revolution in medicinal mushrooms; a protocol involving Reishi (MG-LZ8), psilocybin and Neuro- linguistic programming and the role of mushrooms in treating conditions like depression.
12midday
SACRED ECONOMICS ~ CIRCULAR CURRENCY
Kshetra Govindasamy shares his project on applying Vedic wisdom to reinvent traditional methods on how to live in law, order, harmony, and truth. A hybrid approach, merging his background as a geographer into a practical and fun-filled way to rewild the adventure.
1pm
DRY FASTING ~ THE ART, SCIENCE AND ALCHEMY OF AUTOPHAGY
Amanda Gifford shares her experience of two, 9-day medically supervised Dry Fasts with Siberian expert Dr Sergei Filonov. "No contact with food or water means the body devours toxic and diseased cells and creates an inner fire of death and rebirth."
2pm
BEYOND MEDICINE - JOURNEY THROUGH THE PSYCHE
Dr Adam Suzman, creator of Beyond Medicine takes us on a tour of vibrational medicines using mantras, and plant and mineral frequencies to liberate the body and mind from negative repetition through dreams and direct experience.
3pm
INITIATION INTO STILLNESS WITH SACRED MEDICINES
Sean shares an introduction to Iboga and Kambô; how these traditional medicines initiate realisation through direct observation of our thoughts and actions. From 18 years of guiding people through this transformative experience, Sean shares humour and insights about these animist spirit medicines and this pathway of conscious growth.
4pm
ACCESSING CONSCIOUSNESS THROUGH A DARKNESS RETREAT
Jaijai explains the benefits of extended periods in darkness. In the darkness you enter a primordial state – accessing spiritual and psychic realms of consciousness. Meeting your true self. Isolated from external stimuli, the darkness offers an opportunity to unfold inner realms, the true self beyond societal masks and conditioning.
5pm
ENTHOEGENIC HEALING: PSILOCYBIN AND MDMA AS TOOLS OF TRANSFORMATION
Amidst the current global mental health crisis and limited efficacy of Western and psychiatric medicines, psychedelics are the rising stars of hope. In this talk, Mama Mycelia shares the unique approach they have curated within the field of psychedelic therapy: the use of psilocybin and MDMA as powerful therapeutic allies within a holistic and integrative pathway of supportive practices and modalities. The talk will include a pilot case study of a phased Recovery & Integration Container designed as an alternative to traditional rehab processes.
MOVEMENT PROGRAMME
10am
ASHTANGA YOGA ~ EVA RAAL
Eva's class explores the foundational techniques of Ashtanga Yoga combining breath, movement and meditative awareness. This practice will ignite your inner fire and awaken your nervous system to its natural vibrant state. You'll leave feeling grounded and energised for the rest of the day. Open to all levels of practitioners.
11am
QIGONG ~ GIDEON LE ROUX
Gideon, a long term practitioner of Tai Chi and Qigong will lead a moving meditation class with specific breathing practices. Qigong aims to restore the flow of energy through the body, like a river removing blockages, nourishing and harmonising the internal organs.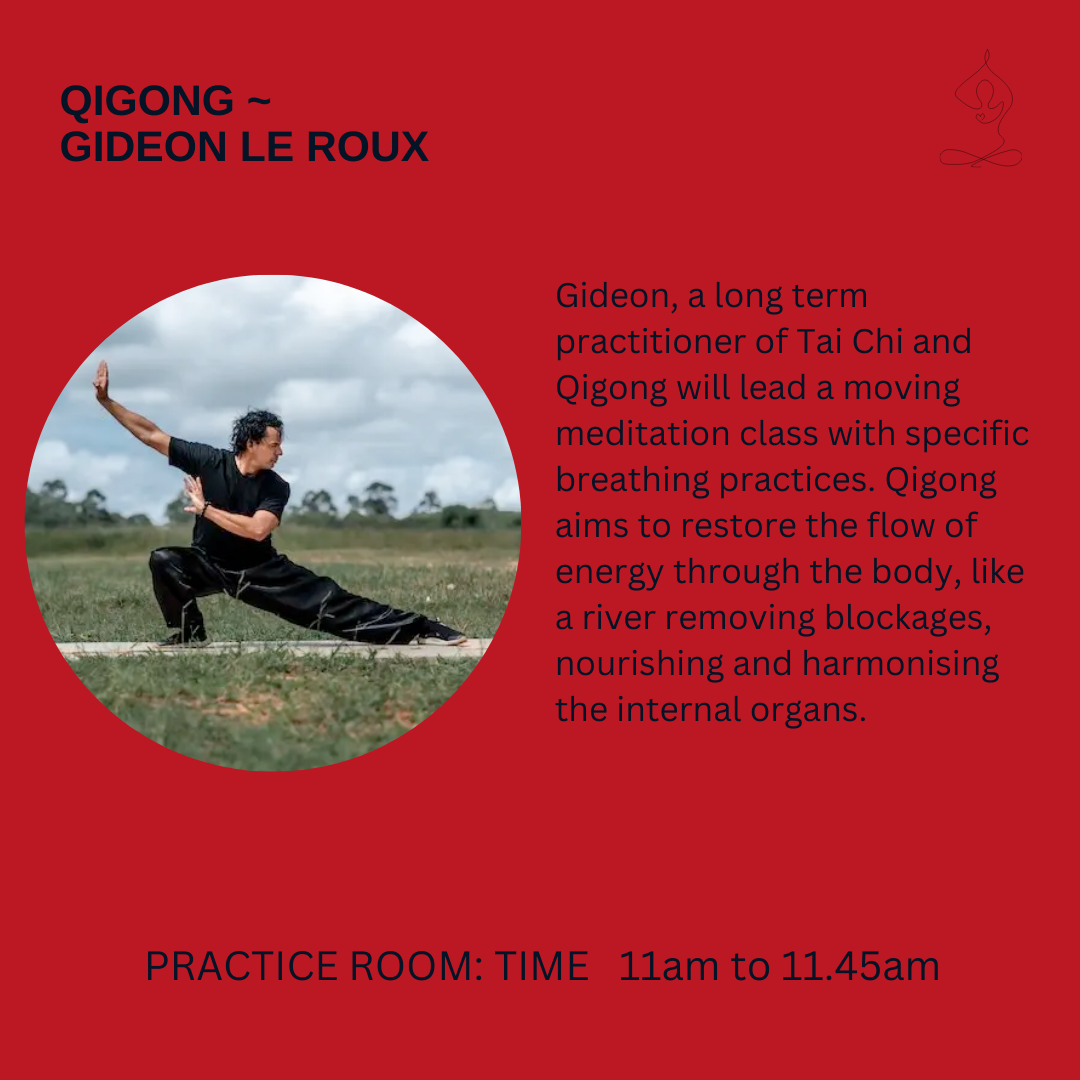 12midday
BIODANZA ~ ANNELIZE
Biodanza is the dance of life creating connectedness and confidence encouraging free, authentic self-expression, helping you navigate life more easily. Get lost in dance and experience heightened joy with Annelize. Fun guaranteed.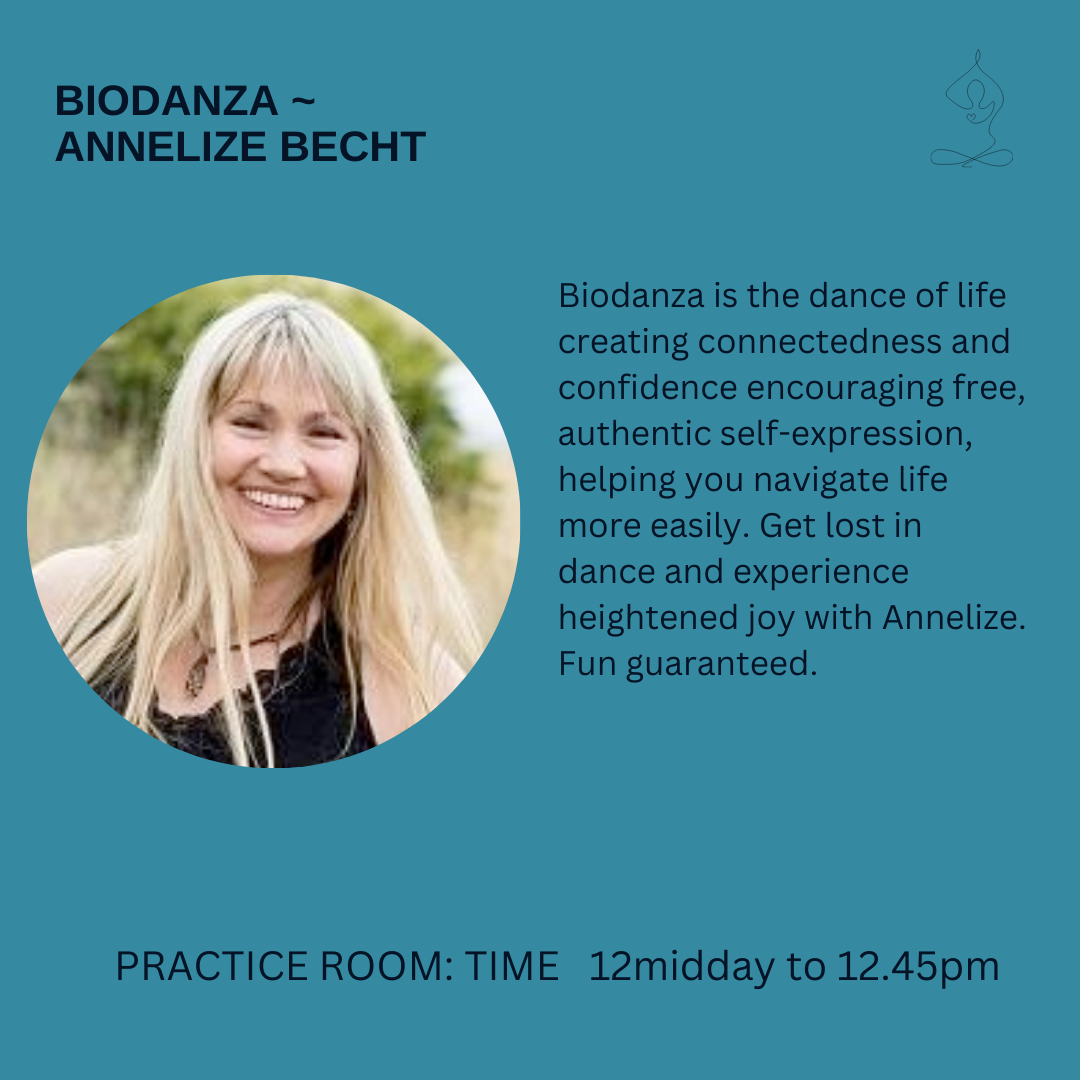 1pm
NIA (NEE-AH)~ DAMIAN JARDIM
Damian Jardim is a dedicated Nia White Belt teacher and visionary guide for authentic embodiment and personal transformation. All this through the art of Nia, a holistic approach to movement focusing on the integration of body, mind, emotions and spirit.
2pm
BREATHWORK ~ DR. LEILA SADIEN
Conscious Connected Shamanic Breathwork is a powerful tool to reach non-ordinary states of Consciousness. Dr. Leila takes us through a journey inducing deep theta states in the brain. In this state we access the subconscious mind and can bypass limiting beliefs and conditioning.
3pm
YOGA NIDRA ~ MANUELA CANDIDO
Fall into a deep meditative state or 'psychic sleep' with Manuela's guidance. She will take you through a series of exercises and meditations - a journey deep into your subconscious to promote strength, clarity, and healing. Expect to feel incredibly relaxed and burden free.
4pm
YOGA ASANAS ~ TAMMY BURTON-MOORE
Tammy has a beautiful way of guiding participants into an asana practice, that softens the mind with breath and invites subtle changes at the level of the psyche. "Let the practice wipe clean the clutter of your opinions and be free. Yoga is freedom."
DIRECTIONS

HOLISTICA - Festival of Experiences GATES OPEN 9.40 to start at 10am
Valley Shala
79 Valley Rd, Hout Bay, Cape Town, 7806
Get Directions