2023 Karoo Winter Wool Festival
Thu Jun 22, 08:00 - Sun Jun 25, 14:00
ABOUT
This year will be the second Karoo Winter Wool Festival taking place in the week of the 22nd to 25th of June 2023! This unique festival takes place in- and around the small town of Middelburg Karoo, and is a unique experience that promotes one of the products the Karoo is most famous for – wool!
Tickets for the festival can be bought on Quicket as well as at Picadilli's Coffee Shop in Middelburg (38 Murray street, Middelburg EC).
Our festival creates an opportunity to educate people about wool, why it is such a wonderful fibre, why it is considered sustainable/environmentally friendly, and how it becomes the garments and items that we use every day (Farm to Fashion/Fork; Shed to Shop). Our festival showcases the entire wool value chain - from wool producers, wool buyers, wool industry companies and representatives, to wool product manufacturers – and of course the consumer who is interested in supporting and learning about this proudly South African product. Our festival gives wool producers and woollen product manufacturers an opportunity to showcase their products, share their stories and develop strong networks – thereby strengthening the wool and natural fibre industry in South Africa.
This festival not only concentrates on wool, but also wishes to promote all things authentically Karoo. The festival highlights everything that makes the Karoo special, such as wide open spaces, beautiful scenery, delicious food and drink, good company and amazing hospitality. We aspire to inspire a love for the Karoo and the special charm that Winter in the Karoo brings with it.
Middelburg Eastern Cape is a Karoo town geographically located exactly half-way between Johannesburg and Cape Town. It has long since been considered the heart of Karoo wool country, being one of the largest wool-producing regions in SA and home to the Grootfontein Agricultural College (Grootfontein Agricultural Development Institute). Middelburg also boasts a thriving private tourism committee (www.middelburgkaroo.co.za) that is working hard to make this town a must-stop in the Karoo, thereby ensuring a healthy and sustainable Tourism industry in a town that is centred around agriculture and which is in much-need of socio-economic upliftment.
For accommodation bookings please visit the www.middelburgkaroo.co.za website or contact the Middelburg Tourism officer at 064 907 9552 or email [email protected].
For more information about the festival, its programme, workshops, speakers, stall applications, partners and sponsors, please visit www.karoowinterwoolfestival.com. You can also email [email protected] and send us your email address if you want to receive our bi-monthly newsletter.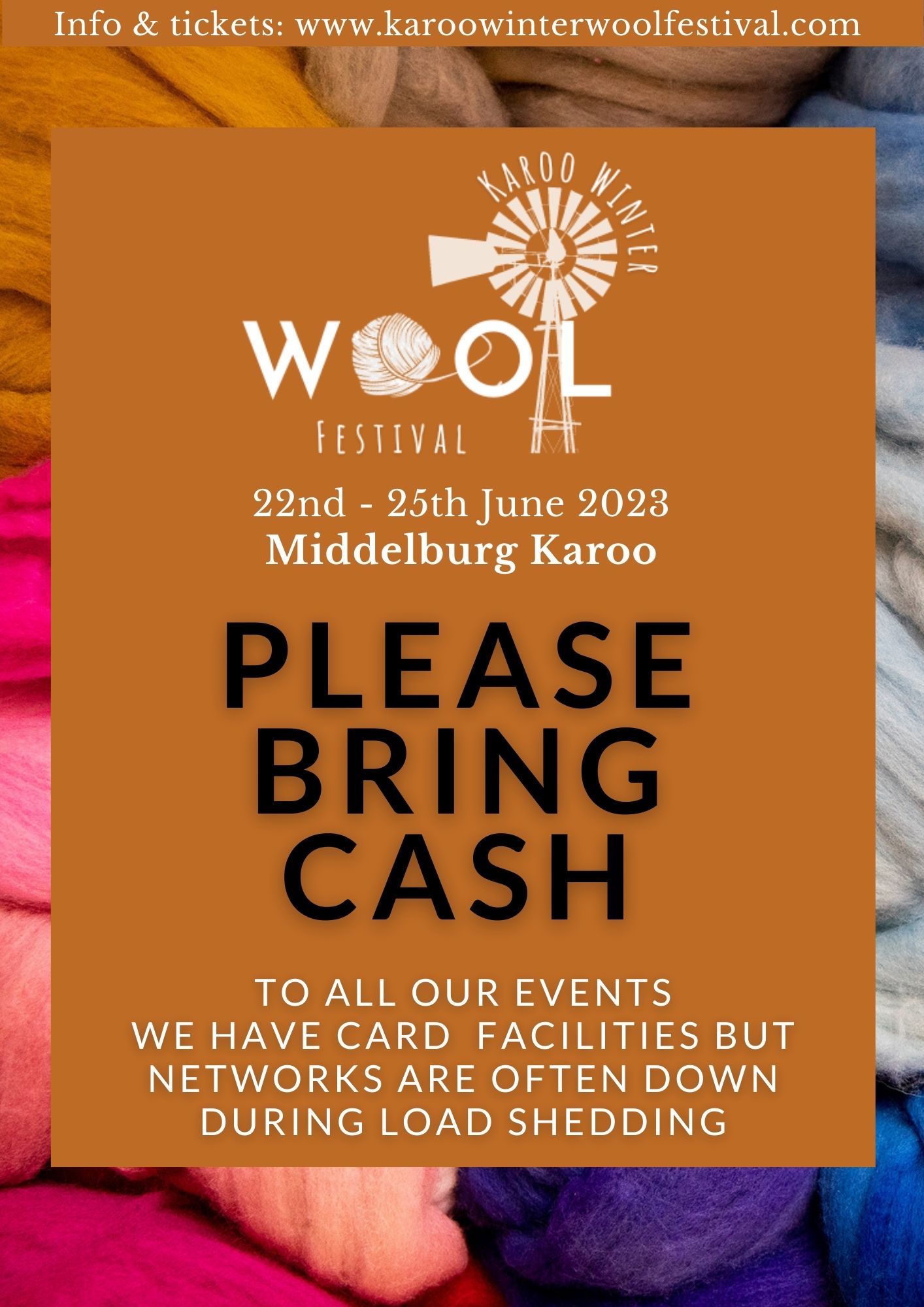 DIRECTIONS

2023 Karoo Winter Wool Festival
Middelburg Karoo
Middelburg - Ec, Middelburg, 5900
Get Directions