Bought your ticket but forgot to add wine?
click here
Toyota SU Woordfees Langtafel 2022
Mon Mar 14, 18:00 - Mon Mar 14, 22:00
Ryneveld Street 37, Stellenbosch
ABOUT
Die Langtafel word weer onder die eike gedek, tussen die pragtige ou geboue van Ryneveldstraat, met feestelike kos en die klanke van gesellige gaste se kelke wat klink. Vanjaar verskaf Bertus Basson en die topdrie-spanne van Kokkedoor Vuur en Vlam inspirasie vir die aand se spesiale spyskaart. Gaste sal met aankoms 'n komplimentêre glas wyn of vonkel ontvang. Bespreek vroegtydig jou plek aan dié geliefde tafel.
The wildly popular Long Table will once again be set under the oaks, between the beautiful old buildings of Ryneveld Street, with festive food, convivial conversation and the cheer of clinking glasses. This year, Bertus Basson and the top three teams of Kokkedoor Vuur en Vlam provide inspiration for the evening's special menu. Guests will receive a complimentary glass of wine or bubbly upon arrival. Reserve your place at this popular event early.
THE HUSSAR GRILL
PICNIC MENU PRICE: R495
VEGETARIAN OPTION: R495
HALAAL OPTION: R495
SERVES 1
SPIER WINE FARM
PICNIC MENU PRICE: R775
VEGETARIAN OPTION PRICE: R775
VEGAN OPTION PRICE: R775
HALAAL OPTION PRICE: R495
SERVES 1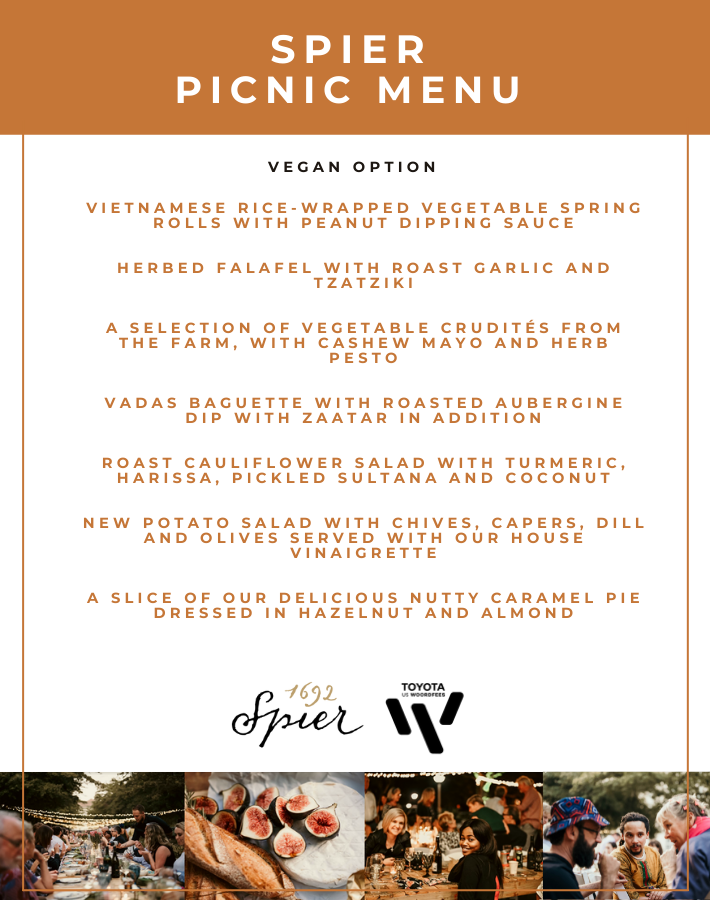 EIKE BY BERTUS BASSON
PICNIC MENU PRICE: R775
HALAAL OPTION PRICE: R495
SERVES 1
BLAAUWKLIPPEN
PICNIC MENU PRICE: R790
VEGETARIAN OPTION PRICE: R790
HALAAL OPTION PRICE: R495
SERVES 1
DE WARENMARKT
PICNIC MENU PRICE: R790
VEGETARIAN OPTION PRICE: R790
HALAAL OPTION PRICE: R495
SERVES 1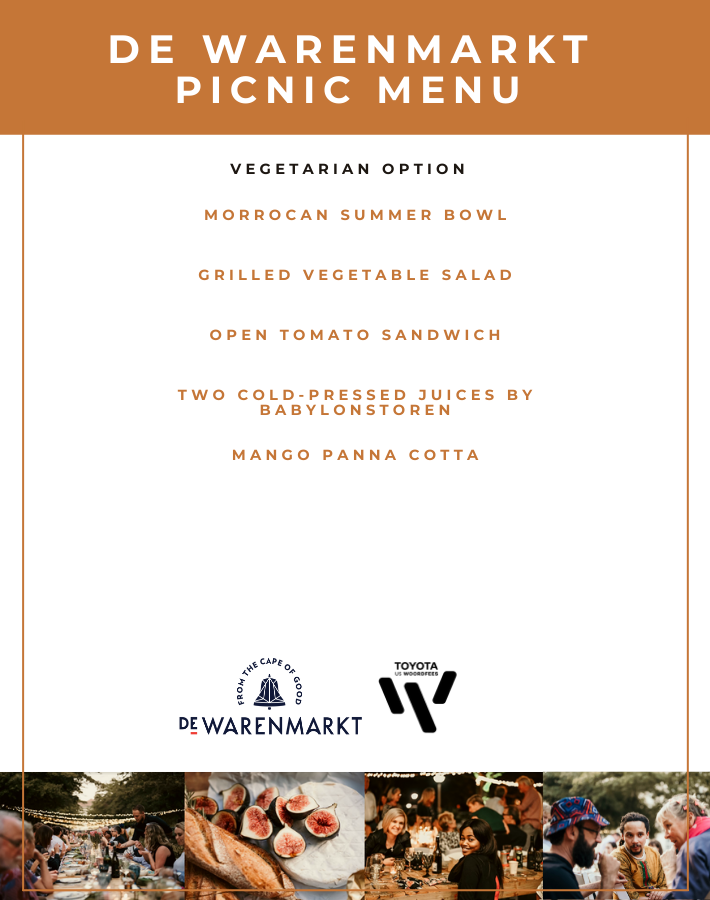 DIRECTIONS

Toyota SU Woordfees Langtafel 2022
Ryneveld Street 37, Stellenbosch
37 Ryneveld St, Stellenbosch Central, Stellenbosch, 7600
Get Directions