Toyota SU Woordfees Langtafel 2022
Mon Mar 14, 18:00 - Mon Mar 14, 22:00
Ryneveld Street 37, Stellenbosch
The Woordfees Langtafel (Long Table)
About
The Langtafel is an annual highlight and beloved tradition for many Woordfees enthusiasts. It is at this long table under the old oaks in Ryneveld Street, where the Toyota SU Woordfees will announce its festival plans and dates for 2022. There will be a performance by the internationally celebrated Stellenbosch University Choir, live music, great picnic food and wine. Many of Stellenbosch's best restaurants will be catering, and guests can choose the restaurant segment of the long table at which to eat.
Please note: An Afrikaans translation of this information, as well as all the menus, is available on our website: https://www.woordfees.co.za/langtafel/die-woordfees-langtafel/
How the Langtafel works:
- Guests are only allowed to choose one menu from one restaurant. It is not possible to create an own menu with choices from the various menus.
- Guests will only be able to sit at the tables of their chosen restaurants. If you have, for instance, bought a ticket for the Hussar Grill menu, you can't be served at the De Warenmarkt table. Friends who would like to be seated together, will have to decide together on a restaurant. In other words, if you purchase a ticket for a certain menu, you have reserved a seat at the long table segment of that restaurant.
- Each restaurant will prepare a picnic box. Click on the various restaurants below to see what's in the box.
- If you require a halaal meal, you can choose the halaal option at any of the restaurants. Your halaal meal will be prepared by The Chalk Board which offers two halaal options – one with meat and one vegan picnic box. When you opt for halaal, you can sit at the table of the restaurant where you ordered from, and the halaal meal will be brought to you. The Chalk Board supplies halaal catering to all the restaurants but does not have a dedicated table.
- You can purchase wine from Kleine Zalze and/or Somerbosch with your ticket at an extra cost. Your ticket will then be scanned as proof of purchase at one of the bars at the venue. Please note: You will need your ticket to get your pre-purchased wine.
- You don't need to buy wine with your tickets. Stellenbosch Wine Routes will supply a selection of wines which we be available at a cashless bar at the venue. There will also be a coffee stand where guests can pay with card or SnapScan.
- Please note: The price of your ticket includes food as well as the cost of entertainment and infrastructure for the evening.
Click on the restaurant tabs to see the menus.
PICNIC MENU PRICE: R495
VEGETARIAN OPTION: R495
HALAAL OPTION: R495
SERVES 1
PICNIC MENU PRICE: R775
VEGETARIAN OPTION PRICE: R775
VEGAN OPTION PRICE: R775
HALAAL OPTION PRICE: R495
SERVES 1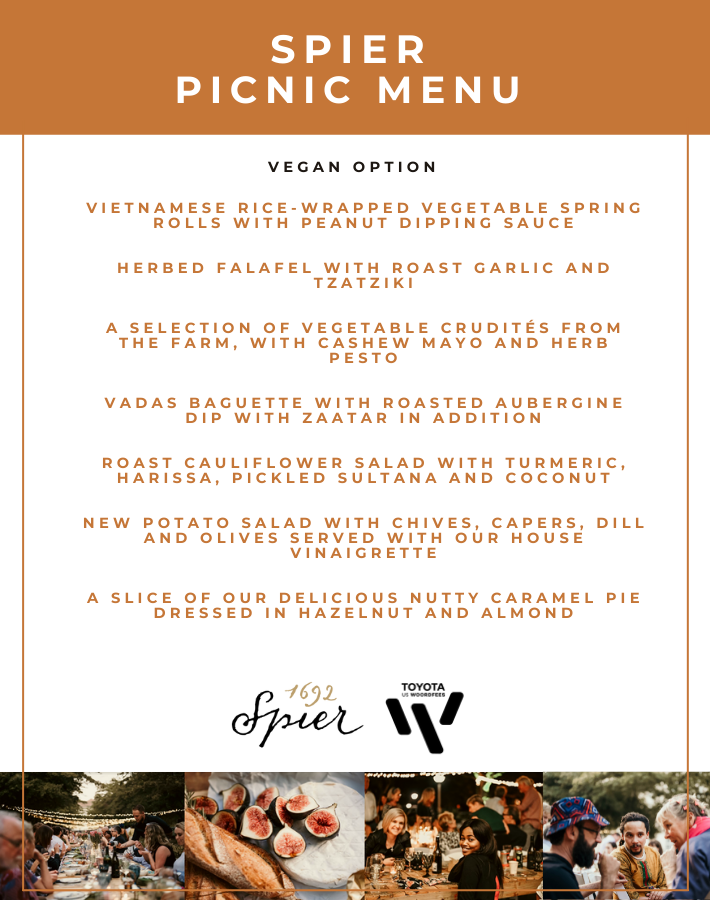 PICNIC MENU PRICE: R775
HALAAL OPTION PRICE: R495
SERVES 1
PICNIC MENU PRICE: R790
VEGETARIAN OPTION PRICE: R790
HALAAL OPTION PRICE: R495
SERVES 1
PICNIC MENU PRICE: R790
VEGETARIAN OPTION PRICE: R790
HALAAL OPTION PRICE: R495
SERVES 1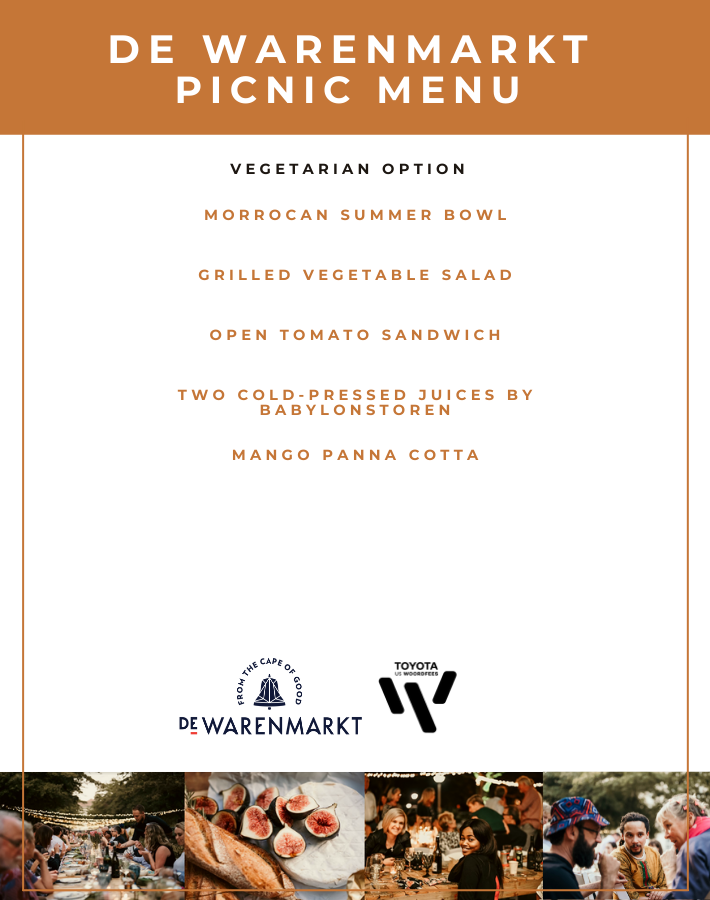 Location
Toyota SU Woordfees Langtafel 2022
Ryneveld Street 37, Stellenbosch 37 Ryneveld St, Stellenbosch Central, Stellenbosch, 7600
Get Directions
Get Directions