Carols & Kilts 2021
Sun Dec 5, 14:00 - Sun Dec 5, 16:00
Presenting the ninth annual production of Carols & Kilts with Durban Caledonian Society Pipe Band and Friends - an opportunity to kick off the festive season with a blend of highland music and Christmas carols.
Sunday 05 December 2021 - 14:00 to 16:00 - D.L.I. Hall
Featuring:
A medley of well-known Christmas carols arranged for the highland bagpipe
An array of talented supporting vocalists and maestros on electric, acoustic and bass guitar, ukulele, keyboard, cello, accordion, saxophone, flute, penny-whistle, drum-kit, and the noble cowbell
Old bagpipe favourites such as The Flower of Scotland and Auld Lang Syne
A few more contemporary sets requiring fancy fingerwork and dextrous drumming
Displays of skill and agility in both Irish- and Highland-dancing sets
The traditional rendition of the poet Robert Burns' Address To A Haggis.
This year the Sunday matinee show returns to D.L.I. Hall, situated in the middle of the Greyville Racecourse in Durban. Round tables will be set up in the hall and picnicking is both welcome and encouraged, but note that the venue has stipulated a strict maximum of 6 people per table under their COVID-19 restrictions. Some drinks will be on sale from the Green Jacket Room bar.
Adults: R90
Pensioners: R50
Children (Under 12): Free
Note that tickets may be available at the entrance, but only up to the limits of the venue under COVID-19 restrictions, and at the increased price of R100 (pensioners and children unchanged). We encourage taking advantage of the lower pre-booking price to reserve your place and help us cater for the correct numbers.
The Band
The Durban Caledonian Society Pipe Band, or "Durban Callies PB" for short, consists entirely of volunteers who do it for the love of music and camaraderie. The band competes in the premier grade at the South African Pipe Band Championships, consisting of 3 Highland Gatherings held throughout the year - one in KZN and the other two in Gauteng. Traveling, uniforms, and instruments are not cheap to obtain and maintain, and the band is not sponsored or externally funded, so our annual concerts are a way to raise funds on top of having a great time playing good music and entertaining you, our beloved fans.
Rohann Ludick
Pipe Major Rohann Ludick has been our fearless leader for almost as long as we've been putting on Carols & Kilts. He learned to play the bagpipes serving in the South African Military Health Services Pipe Band, and has competition experience with successful bands in the UK, as well as extensive life experience, giving him the wisdom and patience to deal with the rest of us.
After a handful of beers his alter ego "Frank the Tank" appears, and it's never a dull evening at the pub when that happens.
Clinton Miles
Drum Sergeant (or colloquially "Lead Tip") Clinton Miles leads the drum corps and is known for writing drum beatings that even pipers can enjoy. He is a a well known figure in the South African pipe band community after serving for many years in the SA Irish band, before moving to Durban and joining the scene here. The rest of the band greatly appreciates that he generously lets us use his house for frequent band practices, and even more generously lets us raid his beer fridge afterwards. At our concerts Clinton mostly sits behind the drum kit, though you might also see him pick up his side drum and show the youngsters how it's done.
Thomas Fuller
The longest continually serving member of the band by a significant margin, Thomas Fuller has also been known as "the Godfather". In days past he lead the band from humble beginnings to becoming a competitive force at the top level of South African competition. Even after retiring from the Pipe Major position he has stayed with the band and continued to justify his other nickname, "Thomas the Tone Engine", with his unmatched ability to get a whole pipe corps playing in tune. A multi-instrumentalist, Tom often plays the penny-whistle in our concerts, and has been known to hijack unattended drums and make it look extremely convincing.
Ian Hunter
Recently promoted to the position of "Pipe Sergeant", Ian has been a dedicated bandsman and piper for over 15 years. He owes many things to the band, including a healthy drinking habit, ample grey hair, and cherished, lifelong friendships. In addition to his dashing good looks and charisma, he wrote these descriptions, and also brings a modicum of flute-playing to the concert stage.
Nicholas & Natalie Tyler
Averaging normal human height, the wonder-duo of Nick and Nats are both drummers, with Nick wielding the bass-drum and Nats spinning those pom-poms on a tenor drum. They are also both naturally talented singers, and often showcase their harmony in our concerts.
In their spare time They have no spare time because they're kept busy raising their two kids, who will hopefully be joining the next generation of pipers and drummers.
Mike Irwin
A piping veteran hailing from Grahamstown, Mike regularly makes the long journey up-country to join us for concerts, contests, and celebrations. He has a great appetite for the art of piobaireachd (the most traditional and demanding form of bagpipe music) and has recently been taking names in the solo-competition scene, to our great pride.
Richard Payn
Aka "Piper Payn", aka "The Lumberjack", aka "B-Rab", Richard is one of the top-performing solo pipers of this generation in South Africa. He regularly wins first place all over the country, and is well respected as a piping expert and all-round great guy. On top of that he is a classically-trained pianist, and can drink an entire 500ml draft in one go.
The Penberthys
Karen and two of her children, Andrew and Emma, make up the majority of the tenor drummers in the band, having come up over the years from newbies to solid, skilled players. Husband and father, Craig Penberthy, is also a band-member, having taken up the art of the bagpipe relatively recently, although he takes on a supporting rather than performing role for this concert. Who says a pipe band isn't a family-friendly organization?
Besides the impressive tenor-drumming moves, Karen and Emma are the ones who cook our haggis, and Andrew has successfully incorporated some much-needed cowbell to the drum salutes.
James Penberthy
Aka "Jimmy the Stick", aka "The Other Penberthy", James is the middle child, and began learning the side-drum which inspired his kin to take up the tenor drums. A stalwart of the solo-drumming community, James regularly places in national competitions. With his siblings, and fellow side-drummer Trevor, James helps bring the average age of the band down to a more reasonable level.
Trevor Wilson
Aka "The Little Drummer Boy", although he's not so little anymore - Trevor grew up in the band, and we feel we have been a good influence on him. Like James, he plays a mean side drum and also places nationally, their friendly rivalry spurring both of them on to great heights. Not satisfied with drumming mastery, Trevor has also learned to play the ukulele, which he adds to our ensemble in Osiyeza (The Crossing)
Michael Cairns
Known to us as "MC", but to the rest of the world as #viralpiper, Michael gained celebrity status this year as he played his bagpipes to raise spirits during the unfortunate civil unrest that took place in Durban earlier in the year. Prior to that (before covid19) you may have already seen or met him busking around the rugby or the Durban July with his friend and bagpipe mentor Ian.
Robin D'Arcy-Donnelly
The latest piper to join the band, Robin is another true piping veteran, having put in 21 years with the Pietermaritzburg Callies, and then another 20 on-and-off for the Transvaal Scottish and Sandton Scottish. So, when he moved back to Durban he naturally sought out the company of other people with a pipe-band addiction, and we're chuffed to have him. Enthusiastic, friendly and loud are all words that describe Robin, and he's almost guaranteed to be the first one to say "so when's the next band practice guys?" - top form!
Wayne Smythe
Wayne retired as our lead drummer and IT specialist some time ago, saying "you won't get rid of me that easily!" True to his word, he keeps returning as our mysterious bass-guitarist (though sometimes that's his younger brother Matt) and bravely mans the microphone to introduce the band and our music, and to gallantly stall while the pipers are still busy tuning 5 minutes after they were supposed to be on-stage.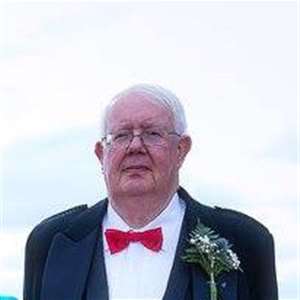 Graeme Fuller
Although he's not an instrumentalist, without The Colonel we would surely not be here today. He oversaw the band's genesis, wrote our constitution, supports our every event and endeavour, fights our battles, and puts in countless hours behind the scenes.
In addition to being the cheerleader-in-chief for our band, he chairs the KZN Piping and Drumming Society which sees to the matters of all KZN pipe bands and their combined events, and participates in the Durban Caledonian Society which aims to keep Scottish culture and traditions alive in South Africa.
Victoria Erasmus
The newest addition to the cast of Carols & Kilts, Vicky is also new to Durbs, hailing from the bundus of the North Coast. She says her fate was sealed in music since the age of 5 when she found a piano, and continued that trend with a passion for learning new things, picking up or stumbling onto new instruments from flute to mouth organ to cello to the squashbox. A trainee piper now on top of all that, she has recently been let loose on a set of bagpipes so perhaps next year we'll have her standing on a different part of the stage. This time she'll be performing with her cello, Wild Bertha, and her accordion, Betty.
Vicky had her own little music school by the age of 11, teaching piano to younger children in the village. She went on to study music at Rhodes and acquired her B.Mus Honours at Tuks, then spent a decade abroad in Britain and Asia teaching English and forming informal musical groups along the way. She is currently a music teacher at Our Lady of Fatima, Durban North, and in her spare time teaches her 73 year-old mum to play piano.
She drinks tea, and enjoys a good single malt whisky (Glenmorangie or Laphroaig if you're considering a gift).
Cassie Rae
Cassie Rae is a local singer-songwriter, pianist and music teacher. She has been singing since age 12 and has performed on many of the major Durban stages. It was very early on that she knew she wanted to do music full time. She now holds her BAHons in Music and her Grade 8 Trinity Classical Piano certificate, and she has just qualified as a teacher with her PGCE at Varsity College. She is passionate about bringing music to the hearts of the youth.
A career highlight for Cassie Rae was being chosen to represent South Africa in a singing competition held in New York, where she placed 2nd in her category, but she is passionate about continuing her career right here in Durban, South Africa. Cassie Rae can most often be seen playing and singing at weddings and parties, with plans for her own music being made in the background. She loves knowing that her music can bring joy to the hearts of her listeners.
Andy Turrel
Andy Turrel is a professional guitarist and an incredibly skilled and experienced musician. He is kept fairly busy with his teaching, but can also often be heard performing at various venues around Durban. The keen observer might spot him in a kilt occasionally, tapping a mean snare drum on the march, but it is his guitar skills that will be on display at Carols & Kilts, adding a whole other dimension to the pipes & drums.
Celtic Heartbeat
Melissa and Samantha have competed with great success at the highest level in both Irish and Highland dancing. They both hold an international Irish dance teaching qualification. Dancing together as Celtic Heartbeat, they have performed in many productions, including Last Night of the Proms in Durban, Pietermaritzburg and Johannesburg, and the well-known proudly-Durban show Shall We Dance.
The twins have performed together with the pipe band at concerts, ceilidhs, highland gatherings and even weddings, but a highlight we look forward to each year is their regular feature at Carols & Kilts.
Nicholas Mowbray
Veteran musician Nick Mowbray started playing nursery rhymes on the piano by ear at 4 years, started formal lessons from 7, and by the age of 12 had already fallen in with the wrong crowd and begun experimenting with risky flute, bagpipe and keyboard ensembles. He has been accompanying the pipe band since 1999, regularly travelling all the way from Port Elizabeth to take part in our concerts and weddings. He says this been by far the most enjoyable aspect of his musical journey.

Back home in his normal life Nick and his brother are now the 5th generation running the family business - retailing men's and school apparel, and manufacturing academic, legal, clerical and municipal attire. His lovely wife and three children are also often seen supporting Nick and the band around the country.
Bernard Kisbey-Green
Bernard has been a professional musician since 1985, as a performer with the KZN Philharmonic Orchestra, and as a music teacher and performer in the Midlands and Pietermaritzburg area. He was a valuable snare drummer in the Durban Callies Pipe Band (by another name) for about 10 years, and is currently an active member of the PMB Callies Pipe Band, but at Carols & Kilts he plays the saxophone. We still can't figure out how he transposes keys in his head on the fly, but we're glad to have him and his skills on the stage!
Alistair MacKenzie
Alistair is a longstanding member of the Durban Caledonian Society and a great friend to the band. On a regular day he might be hiring out kilts and other highland regalia to the public (or to the odd bandsman who left his kit behind in Cape Town..) for weddings and events, or taking part in the North Beach park run. Once or twice a year, however, he dons his gear, walks out on stage, and performs the immortal poetry of Rabbie Burns to a fresh, warm, delicious haggis.

It also happens that the band proudly wears the tartan of Alistair's clan - the deep blue and green of MacKenzie.
Additional information
| | |
| --- | --- |
| Age restriction | Family friendly |
| Refund policy | Refunds allowed (view policy) |