SA Tobacco Ban - Urgent International Human Rights Intervention
About
HELP us get URGENT international intervention to lift the tobacco ban and restore our rights!
Due to the latest court case being postponed to August 2020, we are left with no recourse other than to seek IMMEDIATE international intervention under the "Universal Declaration of Human Rights law". We are going to ensure the entire world sees our suffering, and our aim is to have international human rights organisations put pressure on the government to lift the ban IMMEDIATELY.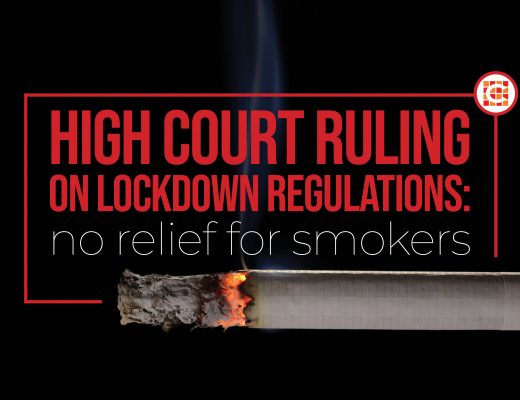 Please help us fight this government, tooth and nail, by making a small donation, filling out our survey and then sharing our cause. Our immediate goals are to:
•Lay an international human rights violation case against the South African government and demand an immediate intervention to lift the ban until the court gives its verdict.
•Create constant global attention on the matter.
•Gain the support of major human rights activists.
•Highlight human suffering and the spike in suicides because of the ban.
•Build a network of influencers and professionals that can add strength to our movement.
We URGENTLY need funding to continue our fight. We allocate funds accordingly as it becomes available. We work day and night in order to get results as soon as possible, and by any means possible. This is a war we wil not win without international intervention!
The Universal Declaration of Human Rights is generally agreed to be the foundation of international human rights law. Adopted in 1948, the UDHR has inspired a rich body of legally binding international human rights treaties. It continues to be an inspiration to us all whether in addressing injustices, in times of conflicts, in societies suffering repression, and in our efforts towards achieving universal enjoyment of human rights.
It represents the universal recognition that basic rights and fundamental freedoms are inherent to all human beings, inalienable and equally applicable to everyone, and that every one of us is born free and equal in dignity and rights. Irrelevant to our nationality, place of residence, gender, national or ethnic origin, colour, religion, language, or any other status, the international community on December 10, 1948 made a commitment to upholding dignity and justice for each and everyone of us.
Our rights have clearly been violated in an extremely cruel manner, with no credible studies being done pertaining to the effects of nicotine withdrawal, and no measures was put in place to accommodate smokers who are facing withdrawal.
This left many innocent people in a situation where they can not cope with the withdrawal. Sadly, this has pushed many people to the point where they have resorted to taking their own lives, due to not being able to deal with the mental and physical effects of nicotine withdrawal..
South African's are the only nation in the world currently suffering under a very cruel "Tobacco Ban", with zero credible evidence supporting the ANC's decision to uphold the ban.
We are representing every smoker in South Africa and we will not stop seeking urgent International Intervention, until the South African government lifts the ban.
Our legal representatives will submit our requests to as many international human rights groups, institutions, government leaders, religious leaders, news agencies, activists aswell as certain IT specialists, as possible.
We will render each and every resource available to us in order to lift this ban as soon as possible.
We are in the process of establishing a website where we would like to ask fellow smokers to please complete a survey. This will provide us with solid data in a court admissible/tamper proof format, reflecting true and accurate survey data.
We will also use this as a platform for keeping our subscribers updated on things like our progress, responses recieved from all the different entities, news events, etc.
Stage One's Budget: Setup of website, news press channels, and submission of the formal "International Human Rights Violation - Intervention Request"
Breakdown of costs are as follows:
1) Website development R6 750
2) Online marketing efforts - Global (variable) R8 000
3) Office supplies and phone bill estimate (variable) R3500
4) International Express Courier for documents(Variable) R3500
5) International Human Rights Advocate (variable) R45 000
The second stage of this project will be made public here, aswell as via our social media channels. Stage 2 will commence on Tuesday, 30th of June. Should we not reach our financial target, the 2nd stage might be delayed, but we are confident that South Africans will stand together and support this cause.
Your contribution towards our cause is much more than just a donation, but rather part of an essential weapon in the fight for our human rights. No contributions are too small and each cent makes a difference.
Please share our page and invite friends and family aswell, we need all the support we can find at the moment.